It takes great skill for a trailer to be as good, or better, than a lot of movies.

The Hobbit trailer succeeds at doing this.

I could literally watch the trailer over and over and it would keep getting better!

Although only two and a half minutes in length, this trailer is packed full of amazing scenery, fantastic characters and breathtaking songs.

First things first: the visuals.

Peter Jackson, the director of the film, creates the perfect setting for each scene.

The wonderfully green, peaceful Shire that's the picture of safety to the elegant surroundings in Rivendell - each new place shown has its own character.

Through this, Jackson manages to tell a lot of the movie in 2½ minutes through quick shots of the settings.
The characters really blew me away too.

I'm really impressed by Jackson's ability to make each dwarf their own person!

Unlike the animated Hobbit movie, each dwarf looks different, and seems to have a unique personality.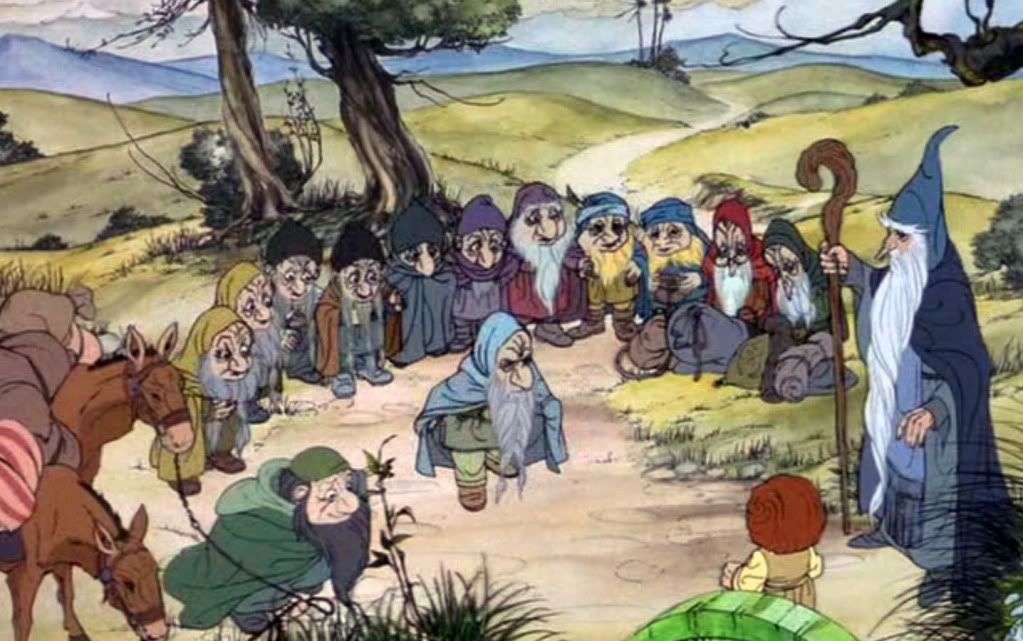 The dwarves in the animated Hobbit (seen above) were
created as pairs that looked exactly the same. In this
trailer, each dwarf has his own look and personality (on right).

The character of Bilbo is also amazingly done.

Although it is a different actor than the original in The Lord of the Rings, Martin Freeman portrays Bilbo Baggins in the exact same way.

It's scary how similar they are!

The manner in which he sits smoking his pipe encompasses Bilbo's stubborn, "respectable" personality.

Finally, the musical score was astounding.

Composed by Howard Shore, the music keeps you captivated throughout the entire trailer, perfectly reflecting the action on screen.
He immediately brings in the audience as a version of "Concerning Hobbits" begins to play, making any LoTR fans feel nostalgic.

It goes on to an incredible performance of "The Lonely Mountain" which gives me chills every time I hear it.

It's so mysterious and magical, it instantly puts you into Middle Earth with the characters.

Although this is just a trailer, it is just as good as a movie.

Everything about it is absolutely perfect.

The Hobbit trailer receives a 10 out of 10!